Reviews
---

Custom Bobbleheads- Gifts for Lawyer
Hi there
We received the bobble head doll today, love it

Thank you
Date Added: by Samiul N.
---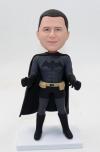 Superhero Bat super hero Custom Bobblehead
Hello! I just received my bobble head in the mail!
I just wanted to say thank you.
I absolutely love it and can't wait to give it to my boyfriend
It came out great
I appreciate all the hard work, and effort you put into making this gift special and can not wait to order more in the near future.
Have a wonderful new year !...
Date Added: by Michelle PA
---

Make Bobble heads for Runner Custom Bobbleheads
The likeness was perfect and the quality was wonderful. It also was completed very quickly and delivered faster than promised. The recipient was thrilled. I would definitely return for future purchases. Thank you so much!...
Date Added: by John Gunther
---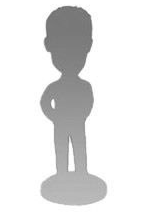 Head to toe fully customized bobbleheads for 1 person
Hello!

The bobble heads arrived yesterday…record time for a delivery from China! So thank you for all your work and speedy turn around! I really appreciate it and my boys LOVED their bobbles! Zach thought the fact that you captured his shoes was pretty neat. Jesse loved his cross country uniform. So thank you, and we'll spread the word!

Take Care - Jeana Miller...
Date Added: by Jeana M.
---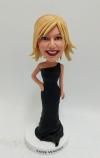 Custom bobblehead-Female in dress
You made my life awesome!!!! My boss placed the doll on Facebook and everyone was in awe! Thank you for rushing the doll and for having it arrive on time yesterday. I can't tell you how amazed and happy she was! You did a perfect perfect perfect job! God bless you! I'll give you all my business anytime I could!

Flo from Staten Island New York ♥️...
Date Added: by Helen L.
---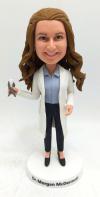 Dentist Custom Bobbleheads
Many, many thanks! It's perfect! I gave it to the "bobble head" this morning & he was thrilled. He said he'll get a lot of laughs & fun out of it!

Thanks again,...
Date Added: by David W
---