Reviews
---

Custom Anniversary Bobbleheads
Very happy with the appearance of the two figures. You captured them very well from the photos and our exchange of email instructions. We will be very proud to give them as a gift to our friends. Thanks for excellent workmanship on the figures....
Date Added: by Russ ..
---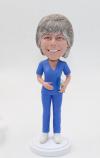 Custom Nurse Bobbleheads gifts for nurse
I love the bobble head so much, you did a great job! I will definitely be ordering more, thank you so much for getting it here so quickly!
Courtney...
Date Added: by Courtney H.
---

Custom gay wedding bobbleheads
This is my 2nd BobbleHead order, I've been very pleased with the service and end product.
Date Added: by Joseph M.
---

Custom wedding bobbleheads
We received the dolls today! thanks so much! we really love them. i'll be ordering more in the future....
Date Added: by Kathy M.
---

Custom Realtor Bobblehead- Best Gift
thanks a lot! It came quickly, and was so nice looking. I will tell you more when I give it as a gift to my sister. YOU ROCK!...
Date Added: by Marilyn B
---

Wedding cake topper bobblehada
Arrived today. All I can say is thank you! It's amazing. I'll be posting this on FB and Instagram after the wedding and saying how awesome you are. Thanks again...
Date Added: by Jessica S
---