Reviews
---

Custom gay wedding bobbleheads
This is my 2nd BobbleHead order, I've been very pleased with the service and end product.
Date Added: by Joseph M.
---

Custom wedding bobbleheads
We received the dolls today! thanks so much! we really love them. i'll be ordering more in the future....
Date Added: by Kathy M.
---

Custom Realtor Bobblehead- Best Gift
thanks a lot! It came quickly, and was so nice looking. I will tell you more when I give it as a gift to my sister. YOU ROCK!...
Date Added: by Marilyn B
---

Wedding cake topper bobblehada
Arrived today. All I can say is thank you! It's amazing. I'll be posting this on FB and Instagram after the wedding and saying how awesome you are. Thanks again...
Date Added: by Jessica S
---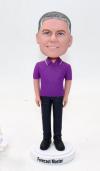 Casual male bobblehead
My bobblehead just arrived. You did an outstanding job! I'm very pleased with it.
The only part I'm a little disappointed with, is the logo on his chest. It is very small.

Other than that I am very happy. I will be ordering another one for my other grandchild later in the year.

I appreciate your corresponding and updating. Thanks!...
Date Added: by Monica S
---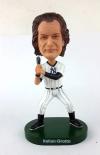 New York Yankees baseball player Bobblehead
I ordered 3 bobble heads this year after ordering 2 last year. If this question is in regard to the first bobble head, then I did receive that one. I am waiting for 2 others. They are incredibly good and worth the price over some other companies that do this for less. The one I received this year is so good, it's spooky. The customer service and replies with questions and comments is fantastic....
Date Added: by John W
---