Reviews
---

Funny Gifts For Pilot Bobbleheads
I would really like to thank the staff at allminime.com for, not only their excellent craftsmanship, but also their exceptional customer service. I looked at all the different online companies manufacturing bobbleheads and finally decided on this one because of their realistic finish and impressive attention to detail. I was not disappointed in the least with my bobblehead...it looked like a fine piece of art!!!
I must admit that I can be very 'picky/fussy' but Lydia (Client Service Manager) di...
Date Added: by Giselle Le
---

Custom Bobbleheads- Gifts for Lawyer
Thank you so much. My daughter received her mini me bobble head today and it's fabulous. It looks just like her....
Date Added: by Monica 00
---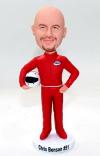 Gifts For Racing Driver bobbleheads
The bobblehead just came today. I just wanted to tell you that I love it, I can't wait to give it to him. Thank you so much!...
Date Added: by Kathy Gr
---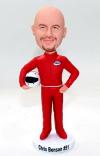 Gifts For Racing Driver bobbleheads
Thank you for the amazing work guys. The similarity is incredible. My boss loves it!
Date Added: by Maia Kumukashvili
---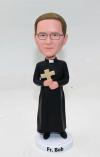 Best Gifts For Priest bobbleheads
Good morning, We got the bobble head last week just have been quite busy to reply, it was great! ... thanks so much. My father in law will love it!...
Date Added: by Marsha Ta
---

Groom carrying bride country wedding bobbleheads cake topper
I did receive the wedding couple bobble head. Looks fabulous!
There was one small issue; the date said 19696 instead of 1969. But I was able to fix it.
Thank you so much for getting it to me on time! Party is tomorrow! It will definitely be a big hit...
Date Added: by Dannielle V.
---