Reviews
---

Custom wedding cake topper with kid
They are very customer service oriented. They were very willing to work with us when we wanted something changed about the proofs. Shipping was very fast. The dolls aren't carbon copies of us but close enough for us to be happy with it. overall great experience....
Date Added: 11/28/2022 by Kate Blackwell
---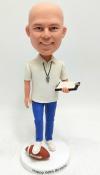 Custom rugby coach bobblehead
Amazing service and proof photos at every step. Such a great surprise for our football coach! Bobblehead was spot-on!...
Date Added: 11/28/2022 by Taylor Donnell
---

Custom Rangers hockey bobblehead doll
Daisy!!!I can't tell you how incredibly perfect our bobblehead came out. You truly exceeded all expectations and I just want to tell you how beautiful the work is and how much it means for me!!! You are incredible and have been so kind and patient and helpful throughout the whole process so I just want to say thank you!!!!!...
Date Added: 11/17/2022 by Lyric Kramer
---

Custom Bobbleheads- Gifts for Lawyer
I keep looking at the Bobblehead and can't believe the likeness, with just a small touch up on the nostrils I think it's going to be perfect! It's for my sister for her Christmas gift, I can't wait to give it to her! I just want to thank you all for putting up with me and thank you for such a wonderful job you have done already!! I will definitely recommend you to everyone!!...
Date Added: 11/17/2022 by Frank Wyatt
---

Personalized Bobbleheads No.1 Dad
A perfect gift for my dad! Super great to work with, and they sent updates to make sure the bobble head was to our liking! It looks exactly how I pictured! Daisy is so great to work with, thank you! I will order it again definitely....
Date Added: 11/01/2022 by Andrew Wyatt
---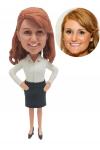 Custom bobblehead office lady
Love love love! My customized bobble head came out so good and looks just like my friend I ordered it for. The detail is amazing! I also appreciated how they communicated step by step and allowed you to make changes and approvals!! Great gift. Thank you Allminime!...
Date Added: 11/01/2022 by David Turner
---