Reviews
---

Personalized custom wedding bobble heads doll
Quick, easy... affordable. Cant wait to see the final product!
Date Added: by Richard M
---

Custom Gay wedding cake topper
Good afternoon. I am sorry I am lax in sending this email. I received the bobblehead in perfect condition and you did a great job. Thank you so much - well worth the money spent....
Date Added: by Michael S
---

Custom Baseball Bobbleheads
The Bobblehead arrived and my son is very pleased, as am I judging from the photos I have seen. The original and second version are both excellent and we appreciate all your efforts to accommodate us.

Thank you for all of your time and attention to detail, verified by the many emails we have exchanged during the project. You really are "Number 1" in both custom design and service.

Best of luck in your future projects, which I hope may include more Rossetti Bobbleheads.

Sincerely,
Shirl...
Date Added: by Shirley W
---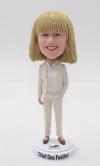 Best gift for Boss-female bobblehead
Good morning,

I wanted to thank you so much for providing a great service and customer experience. The doll was delivered early as requested and looks fantastic!! Our boss absolutely loved the doll and has it sitting in her office!! Excellent job!...
Date Added: by Vickie W
---

Custom bobbleheads-Family
Five stars! Highly recommended! The dolls were perfect! The service is amazing from start to finish. It will make the perfect gift. The quality is top notch, and the artists do amazing work. Thank you very much Lydia and team....
Date Added: by David W
---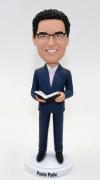 Custom pastor bobblehead
Hey Lydia,

Just wanted to let you know we received the doll yesterday! You guys did a fantastic job with this - especially with having just one semi fuzzy picture! Wow! I will most certainly use you guys again in the future.

Thank you again so much for everything!...
Date Added: by N W
---