Reviews
---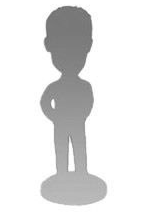 Head to toe fully customized bobbleheads for 1 person
I just received my bobbleheads today and I couldn't be more pleased! The likeness is amazing. The quality is top notch! I was well informed and kept up to date throughout the entire process! Thanks Lydia and thanks to the artists who delivered an awesome product!...
Date Added: by Courtney Henson
---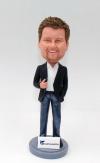 Personalized Businessman Bobbleheads
I wanted you to know my BobbleHead arrived safe and we are

SO INCREDIBLY HAPPY WITH YOUR PRODUCT!!!!!!

Thank You again for ALL of your assistance and Hard work!...
Date Added: by Amanda W
---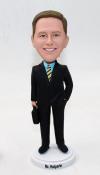 Best gifts for boss- custom bobbleheads
Good afternoon,

Just wanted to let you know we have received the doll and it looks great!
Date Added: by Amanda W
---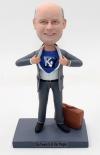 Personalized Bobbleheads for bossman
WE GIFTED OUR BOSS A BOBBLE HEAD FROM YOU GUYS FOR BOSS'S DAY! IT TURNED OUT SO PERFECT AND HE ABSOLUTELY LOVED IT. EVERYONE WHO SAW IT COULDN'T BELIEVE HOW SIMILAR IT WAS TO HIM. THANK YOU SO MUCH FOR DOING A WONDERFUL JOB!...
Date Added: by Jamie T
---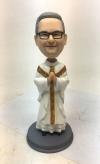 Best Gifts For Priest Custom Bobbleheads
We received the bobblehead today, about an hour ago. I just wanted to thank you again for all your correspondence and proof exchanging. When we started this process I had no idea how this would all work out, but it did. I also wanted to let you know that the bobblehead looks AMAZING! We are so very pleased. The pictures don't do it justice. Please thank the artist; he or she is an extremely talented individual. Once again, thanks for all your help; we sincerely appreciate it....
Date Added: by Gerry T
---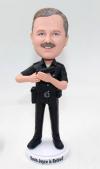 Police officer custom bobblehead
I wanted to let you know that I received my order today, and I am THRILLED with how it turned out! Thank you so much for doing such a great job and also for getting it to me on time! I will be happy to give you a good reference to anyone interested in doing business with you!...
Date Added: by Dana T
---