Reviews
---

Wedding cake topper bobblehada
Arrived today. All I can say is thank you! It's amazing. I'll be posting this on FB and Instagram after the wedding and saying how awesome you are. Thanks again...
Date Added: by Jessica S
---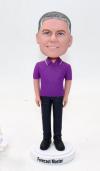 Casual male bobblehead
My bobblehead just arrived. You did an outstanding job! I'm very pleased with it.
The only part I'm a little disappointed with, is the logo on his chest. It is very small.

Other than that I am very happy. I will be ordering another one for my other grandchild later in the year.

I appreciate your corresponding and updating. Thanks!...
Date Added: by Monica S
---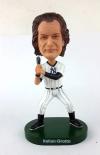 Custom Bobblehead-New York Yankees baseball player
I ordered 3 bobble heads this year after ordering 2 last year. If this question is in regard to the first bobble head, then I did receive that one. I am waiting for 2 others. They are incredibly good and worth the price over some other companies that do this for less. The one I received this year is so good, it's spooky. The customer service and replies with questions and comments is fantastic....
Date Added: by John W
---

Personalized custom wedding bobble heads doll
Quick, easy... affordable. Cant wait to see the final product!
Date Added: by Richard M
---

Custom Gay wedding cake topper
Good afternoon. I am sorry I am lax in sending this email. I received the bobblehead in perfect condition and you did a great job. Thank you so much - well worth the money spent....
Date Added: by Michael S
---

Custom Baseball Bobbleheads
The Bobblehead arrived and my son is very pleased, as am I judging from the photos I have seen. The original and second version are both excellent and we appreciate all your efforts to accommodate us.

Thank you for all of your time and attention to detail, verified by the many emails we have exchanged during the project. You really are "Number 1" in both custom design and service.

Best of luck in your future projects, which I hope may include more Rossetti Bobbleheads.

Sincerely,
Shirl...
Date Added: by Shirley W
---