Reviews
---

Personalized Bobbleheads No.1 Dad
A perfect gift for my dad! Super great to work with, and they sent updates to make sure the bobble head was to our liking! It looks exactly how I pictured! Daisy is so great to work with, thank you! I will order it again definitely....
Date Added: 11/01/2022 by Andrew Wyatt
---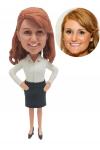 Custom bobblehead office lady
Love love love! My customized bobble head came out so good and looks just like my friend I ordered it for. The detail is amazing! I also appreciated how they communicated step by step and allowed you to make changes and approvals!! Great gift. Thank you Allminime!...
Date Added: 11/01/2022 by David Turner
---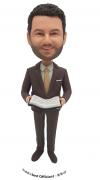 Custom bobblehead best officiant
Daisy sent us photos and asked for feedback at every step of the process. The resemblance is uncanny! It's the perfect gift for our wedding officiant. Thank you!...
Date Added: 11/01/2022 by Kiran Bacsa
---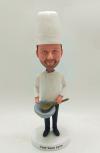 Make Bobble heads For Chef Custom Bobbleheads
I've used this service several times and the bobbles always come out incredible, with professional shipping that always arrives early. It's the perfect gift and the team behind this site are incredibly responsive. Highly recommended!...
Date Added: 04/12/2022 by Ev Kay
---

Custom Bobbleheads- Gifts for Lawyer
Hi there
We received the bobble head doll today, love it

Thank you
Date Added: 02/19/2021 by Samiul N.
---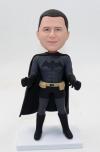 Superhero Bat super hero Custom Bobblehead
Hello! I just received my bobble head in the mail!
I just wanted to say thank you.
I absolutely love it and can't wait to give it to my boyfriend
It came out great
I appreciate all the hard work, and effort you put into making this gift special and can not wait to order more in the near future.
Have a wonderful new year !...
Date Added: 02/19/2021 by Michelle PA
---