Reviews
---

Mr & Mrs PENNINGTON Bobbleheads Cake Toppers
This is a wonderful experience.The dolls turned out great! But I would like a special base not the original one~ Well, otherwise it is good!...
Date Added: by Jessica P
---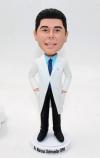 Custom bobbleheads- Best gift for your doctor
I had ordered a total of 10 bobbleheads of all the doctors in the clinic I manage. They turned out wonderful! The process was great and there were several people who asked for the website. Thank you so much for such a simple, seamless process and great work! Well worth the money spent....
Date Added: by Russ S
---
Custom wedding cake topper-Anniversary gift
Hi Alice,
Very happy with the appearance of the two figures. You captured them very well from the photos and our exchange of emails instructions. We will be very proud to give them as a gift to our friends.....
Date Added: by Russ S
---

Male Weight Lifter Bobblehead Doll Weightlifting
Alice, we received the Bobblehead yesterday and are more than 200% satisfied. Thank you so much for an excellent job. On a side note, we ordered some from another site because we couldn't find the design in your web site. We ordered all three at the same time. From the beginning your company has been more impressive than the other hands down. I'm just hoping their end result is half as good as yours! I will definitely use your company again and provide feedback attesting to our full satisfaction...
Date Added: by Christa J
---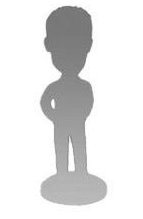 Head to toe fully customized bobbleheads for 1 person
This is a gift for my boss who will retire next month. I'd like to say it is beyond my expectation. I am sure my boss will love it. Thank you for your efforts....
Date Added: by Sarah L
---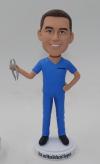 Dentist/Odontologist bobblehead
Good.
Date Added: by Sophia G
---