Reviews
---

Custom wedding cake Toppers Spiderman / Superman groom
Tooo cute!!!! Love the way they turned out! I can't wait for everyone to see the cake topper at the reception!!!...
Date Added: by Jenna M.
---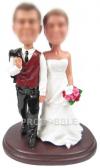 country Wedding Cake Topper Bobbleheads
THIS WAS AMAZING!! Everyone at our wedding LOVED the topper and how it matched our outfits. I couldn't be more happier! Of course, just as it says, you shouldn't expect 100% exact look alikes, but they looked similar enough that people recognized us. Couldn't be more happier! Even had some future wedding couples say they were having a hard time finding THE cake topper and after seeing ours knew they had to have the same kind....
Date Added: by Laurie D.
---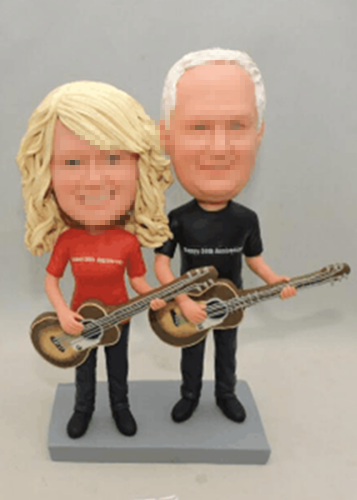 Custom guitar player couple wedding bobbleheads
Seller was absolutely amazing! Very fast making the topper, accommodated all request, polite and professional. Our topper will be a keepsake we will cherish forever. Thank you!...
Date Added: by Aerel T.
---

Groom carrying bride country wedding bobbleheads cake topper
I really appreciate how patient they were and how quickly they made any alterations I asked. Great customer service and shipped by estimated date. Love it! Thank you!...
Date Added: by Chrissy D.
---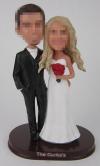 Best wedding gifts bobbleheads
Absolutely LOVED our cake topper! They did such an amazing job capturing our facial features and the details of our wedding outfits. They were so quick too and I have to say, I really enjoyed the review process. It was so fun to get their emails with pictures of the progress of our cake topper. Now I know what we look like bald! The cake topper arrived safe and sound as they customize the styrofoam packing material to protect everything. I highly recommend!...
Date Added: by Tatyana W.
---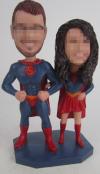 Custom superhero wedding cake toppers
My fiance and I love our custom cake toppers! They look a lot like us and we are excited to see them placed on top of our cake in Oct.! They worked with us every step of the way to create what we wanted and sent photos to show progress during each stage! Love these cake toppers! :)...
Date Added: by Jamie B.
---