Reviews
---

Bulk customized bobbleheads gift for Party
This is one of the best purchases I've made! They were so great to work with - quick and fast with their correspondence, and very professional! I order 80 dolls from Allminime and when the final products of our bobbleheads came in, I was blown away at how close the artists were able to capture our individual facial characteristics, and all done in a quick turnover! Go and work with them, you won't regret it!!...
Date Added: by Manuela C.
---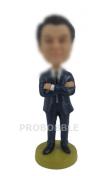 Personalized Bobbleheads Executive CEO
We ordered 2 bobbleheads for our boss for Christmas. Our bobbleheads turned out awesome. They are professionally made and the likeness is amazing. I could not have asked for better customer service. Julie was so attentive and quick to responde to all our needs. I would definitely recommend to our friends. It was a great experience....
Date Added: by Sarah D.
---

Custom Wedding Cake Topper Bobbleheads
I highly recommend this item if your looking for the perfect keepsake. Allminime is an excellent company to deal with and keeps in contact throughout the entire process. My item shipped within 5 days from the order I received it in perfect condition and it was beyond my expectations. Thank you Allminime...
Date Added: by Naomi Y.
---

Custom wedding cake Toppers Spiderman / Superman groom
Tooo cute!!!! Love the way they turned out! I can't wait for everyone to see the cake topper at the reception!!!...
Date Added: by Jenna M.
---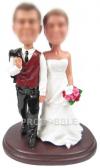 country Wedding Cake Topper Bobbleheads
THIS WAS AMAZING!! Everyone at our wedding LOVED the topper and how it matched our outfits. I couldn't be more happier! Of course, just as it says, you shouldn't expect 100% exact look alikes, but they looked similar enough that people recognized us. Couldn't be more happier! Even had some future wedding couples say they were having a hard time finding THE cake topper and after seeing ours knew they had to have the same kind....
Date Added: by Laurie D.
---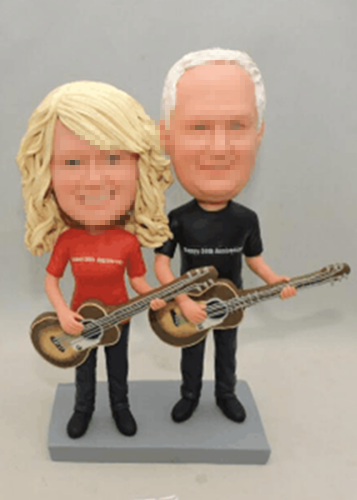 Custom guitar player couple wedding bobbleheads
Seller was absolutely amazing! Very fast making the topper, accommodated all request, polite and professional. Our topper will be a keepsake we will cherish forever. Thank you!...
Date Added: by Aerel T.
---