Reviews
---

Gifts For Realtor Bobbleheads Card Holder
Alice, I want to thank you, the master artist that worked on my bobble heads, and your company (Allminime.com) for not only bobble heads that look so much like my wife and I, but also for the excellent customer service throughout the entire process. Though there is a time difference, I never had to wait for a quick and "can do" response. When I was searching online for a company to make my bobble heads for my 25th Wedding Anniversary, I found many and even one that operates ten minutes from my h...
Date Added: by John F
---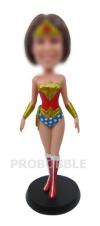 Wonder Woman Bobbleheads
I recieved the doll for my daughter yesterday and I just wanted just to say what a great job you've done and your service was great from start to finish I am very happy!
Thank you very much for all your hard work....
Date Added: by Christina S
---
Custom music conductor bobbleheads
I received the dolls today and they look absolutely amazing. Thank you again for your wonderful customer service, quick turnaround time and fantastic work! I will be recommending your company to anyone looking for custom bobble heads in the future! Thank you again!...
Date Added: by MT Edward
---

Wedding Gifts bobbleheads Cake topper
Amazing doesn't even begin to explain how this turned out!! I cannot wait to see this on top of our cake. Overall experience was a breeze, great communication by seller and very fast processing time for something customized. Thank you so much!...
Date Added: by Jerry Brown
---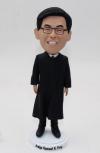 custom bobbleheads gifts for Judge
Have had good experiences every time I've ordered and love the quality of every detail on the picture! Great service. Thanks!...
Date Added: by Alex W
---

Personalized Bobbleheads - Hockey Player
I've had this company do 3 bobble head dolls for me, and their service went way beyond my expectations. Not only were the bobble heads adorable, but their communication and follow up was remarkable. The pricing was in line or even better than other on-line companies. I would recommend Allminemeto anyone considering purchasing one....
Date Added: by Marilyn Buchanan
---