Reviews
---

Custom wedding cake topper bobbleheads sitting on bench
I'm in love with my cake topper! I can't wait to see everyone's reaction!!! Allminime was really good and made all the changes I wanted, I am very pleased with the service!! They did an amazing job!...
Date Added: by Natacha W.
---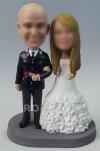 Cake topper wedding bobbleheads
Absolutely Perfect! Great company and great product!
Date Added: by Leopold D.
---

Custom baseball player Wedding Cake Toppers
Work was beautiful, prompt, and made our special day extra wonderful :-)
Date Added: by Kyle E.
---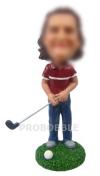 Gifts for Female Golfer Bobbleheads
Exactly the bobble head I was after! Absolutely amazed by the quality of how well my bobble head turned out. I was initially a bit worried about it, but am so so happy with it! My friends and family are also so impressed. Thank you!!...
Date Added: by Alyse P.
---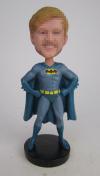 Batman personalized bobbleheads
Awesome service quick and efficient. Looks real!! Excellent job! Lots of detail!!
Date Added: by Mary N.
---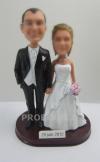 Country Wedding couple cake topper bobbleheads
This cake topper was perfect for my and my then fiance, husband now. Obviously they did an amazing job. We did have a miniature cake and served cupcakes at our wedding so it didn't fit on top of our cake. My coordinator just put it next to our display and everyone just loved it!...
Date Added: by Diane M.
---