Reviews
---
Custom music conductor bobbleheads
I received the dolls today and they look absolutely amazing. Thank you again for your wonderful customer service, quick turnaround time and fantastic work! I will be recommending your company to anyone looking for custom bobble heads in the future! Thank you again!...
Date Added: by MT Edward
---

Wedding Gifts bobbleheads Cake topper
Amazing doesn't even begin to explain how this turned out!! I cannot wait to see this on top of our cake. Overall experience was a breeze, great communication by seller and very fast processing time for something customized. Thank you so much!...
Date Added: by Jerry Brown
---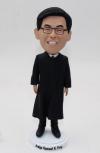 custom bobbleheads gifts for Judge
Have had good experiences every time I've ordered and love the quality of every detail on the picture! Great service. Thanks!...
Date Added: by Alex W
---

Personalized Bobbleheads - Hockey Player
I've had this company do 3 bobble head dolls for me, and their service went way beyond my expectations. Not only were the bobble heads adorable, but their communication and follow up was remarkable. The pricing was in line or even better than other on-line companies. I would recommend Allminemeto anyone considering purchasing one....
Date Added: by Marilyn Buchanan
---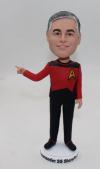 Star Trek custom bobbleheads
Great! I love it! My finance was delighted when he got the bobblehead. Thank you! I will definitely order more in the future. Service good too!...
Date Added: by Susan R
---

Wedding Gifts bobbleheads Cake topper
Glad I chose Allmineme. There are so many different custom cake toppers vendors out there and so many different Groupon/Living Social deals.
The prices at Allminime were actually competitive with others without needing to buy from deal sites like Groupon. The product and service from Allminime was great!
I would definitely recommend to my friends and family for any future custom cake toppers and bobblehead needs!...
Date Added: by Patrick T
---